Professional Roofing Services in Radlett
Professional Roofers in Radlett
We have been trading in the Radlett area since we first opened our doors in 1960.
In the six decades that have followed, we have built ourselves a reputation for excellence that few can hope to match. It is a reputation we have worked hard to build and one that we work even harder to maintain. Whether you are a private customer or a commercial client, you are guaranteed the same high standard of service every time you hire us for a roofing job.
Roofers Near Me in Radlett
As a well-established firm of professional roofers in Hertfordshire, we have much to offer our Radlett customers. Here are some of our more popular services…
Roofing Services in Radlett
Here at Watford Roofing, we deliver an extensive range of roofing services to domestic customers and commercial clients in and around the Radlett area. From new roof installations and flat roofing systems to existing roof repairs and new rooflines, we deal with all your roofing projects, large and small. Call today to see what we can do for you.
New roofs apply to both new build properties and replacement roofs across Radlett. We provide a complete, end-to-end service on all new roof installations. From the original design to fitting the final roofing slate, we handle it all. This includes flashing, leadwork, chimney stacks, rooflines, and more. Whatever you are expecting from your new roof, we will provide it.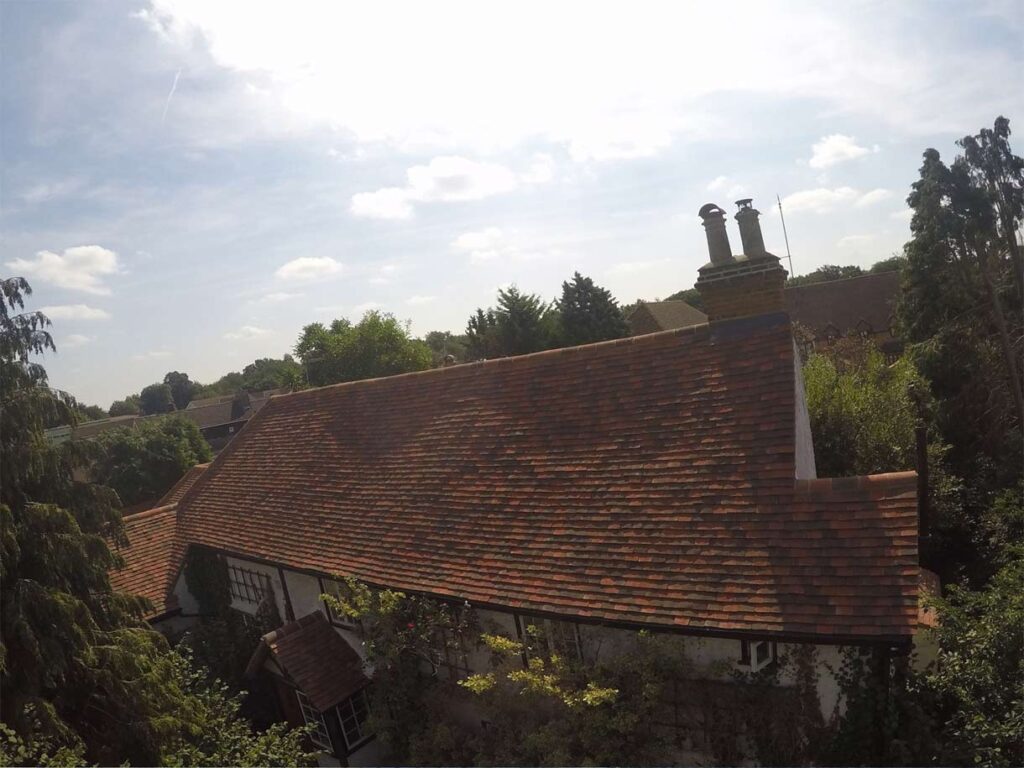 Much of our work is taken up with roof repairs in the Radlett area. We assure all our customers a fast and effective repair surface, no matter what the extent of the damage might be. From missing slates and leaking leads to major puncture damage from fallen tree boughs, we can help.
No other roofing company in the Radlett area has the level of experience that we do with flat roofing systems. For more than sixty years we have been installing flat roofs on domestic homes and commercial properties across the town. We guarantee a safe, efficient, and long-lasting flat roof solution, installed using the finest materials on the market.
Tiling and Slating in Radlett
We provide fantastic tiling and slating services for our customers in Radlett. Whether you need us to replace a single missing tile or re-shingle an entire roof with slates, we can accommodate you. We also handle flashing, leadwork, and other sealants as well as repointing existing tiles and replacing corroded nails. Whatever you need, we will deliver.
Fascias, Soffits, and Guttering
Whether you're adding a roofline to a new build property, repairing an existing roofline, or getting a replacement, call Watford Roofing today. We source all our fascias, soffits, and guttering from trusted suppliers and have them fitted by our team of professional roofers. This ensures a quality finish every time you hire us.
Other Roofing Services in Radlett
In addition to the main roofing services listed above, we offer several other solutions to our customers across Radlett. From chimney work, 3-layer high-performance felt systems, and lead roofs to clay tiles, Velux windows, and gutter work, we can assist with any roofing concerns you may have. We are even licensed to remove asbestos from your property.
If you live or work in Radlett and require quality roofing, you are in luck. With our office in nearby Rickmansworth, you have the county's leading roofing company practically on your doorstep. Indeed, our team of professional roofers regularly make the trip to Radlett in under 20 minutes. This guarantees prompt service every time you hire us.
For professional roofing services and more throughout Radlett, contact Watford Roofing today. Call us on 01923 770 770 or 07958 719744 to receive a free, no-obligation quote.